Calling all makers, entrepreneurs, designers, engineers, creators, innovators and developers!
Calling all makers! Join us and over 100 designers, developers, tinkerers, and innovators on Friday March 6th, 7th, 8th for a weekend dedicated to developing ideas and hacking hardware. Our goal is to bring the hardware community together to get our hands dirty and come up with cool ideas.
Come to the hackathon and bring your ideas from the back of a napkin to a full working prototype in just two days with the help of industrial design and hardware experts and a whole host of amazing tools. Haven't made a hardware device on your own before? No problem! Everyone is welcome, and teams will need a wide variety of skills including design, marketing, software development, and project management among others.
What's a Hardware Hackathon?
Hardware Hackathon, a fun-spirited competitive maker event. At the hackathon, you'll meet and collaborate with a team of people on one product idea you all love. We'll kick off the event with a talks from some of the world's top makers.
Afterwards, Hackathon participants will be invited to pitch their ideas to the crowd and attract other attendees to form design and production teams. (Note: You are not required to pitch! Join whichever product team most interests you.) After the ideas are voted on, participants will independently break up into teams for each idea, then they'll design and prototype it together over two days.
During the Hackathon, we'll provide you and your team with an incredible list of resources including developer kits, prototyping tools, as well as 3D printers, CNC machines, soldering irons, a laser cutter and, of course, whiteboards and markers. We're also bringing in a group of hardware and design mentors who will help you think through the prototyping process and beyond. And, of course, we'll keep you well-fed! Meals, snacks, and drinks are included. (If you have any special requests, let us know in advance TO@hardwarehackathon.org)
On the final day, our panel of judges will listen to your team pitch your product. We're offering $8,000 in cash prizes to the winning teams, so bring your competitive spirit!
Space is limited so register early!
Virtual Guest Speaker
Chris Anderson, Co-Founder and CEO at 3D Robotics
We are excited to announce that Chris will be virtually kicking off our hackathon on Friday March 6 at 8:00pm!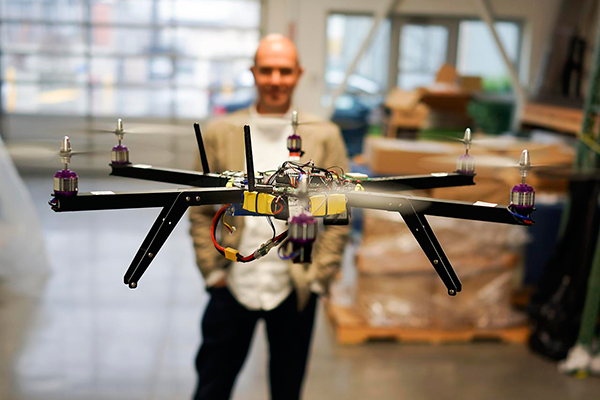 Schedule
Day 1: Friday March 6, 3pm - 11:00 pm
2:30 pm - Early Registration for Pre-Event Workshop Opens
3:00 pm - Optional Workshop (Hardware Prototyping 101)
5:00 pm - Food & Networking Begins! (Official Registration Opens)
6:00 pm - Welcome & Panel
6:30 pm - Pitches
7:15 pm - Voting and Building Teams
8:00 pm - Guest Speaker Kick-Off
8:30 pm - Start making!
Day 2: Saturday March 7, 8:00 am - 11:00 pm
8:00 am - Breakfast
8:30 am - Making Session! [Mentors available all weekend!]
12:30 pm - Lunch
1:30 pm - Making Session!
2:00 pm - Coaches help teams one-on-one. They are here to help!
6:00 pm - Dinner
11:00 pm - Building closes
Day 3: Sunday March 8th, 8:00 am - 8:00 pm
8:00 am - Breakfast
10:00 am - Pitch Coaching
12:30 pm - Lunch
4:00 pm - Demo day guests arrive. Snacks served.
4:30 pm - Intro & Keynote
5:00 pm - FINAL PITCHES
6:30 pm - Panel
7:00 pm - Winners Announced
7:15 pm - Reception