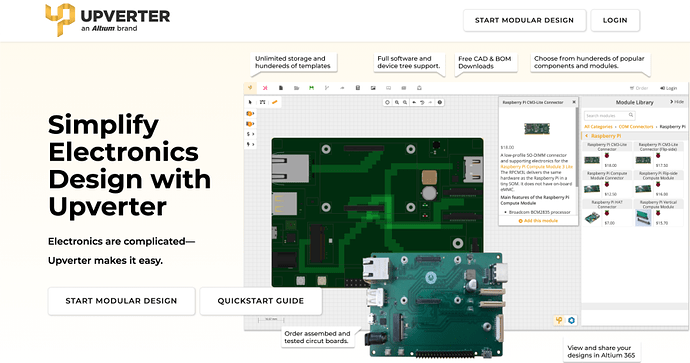 We've got some really exciting news to share with you!
Altium is merging Geppetto Modular and Upverter Circuit Designer together to give our design community the ultimate in convenience and ease of use. The future of upverter is exciting, with further integrations on the horizon.
Now, you can do everything through the new Upverter Modular platform—design PCBs, share designs for review and manufacturing custom boards. Plus, of course still access the Upverter Circuit design tool you know and love.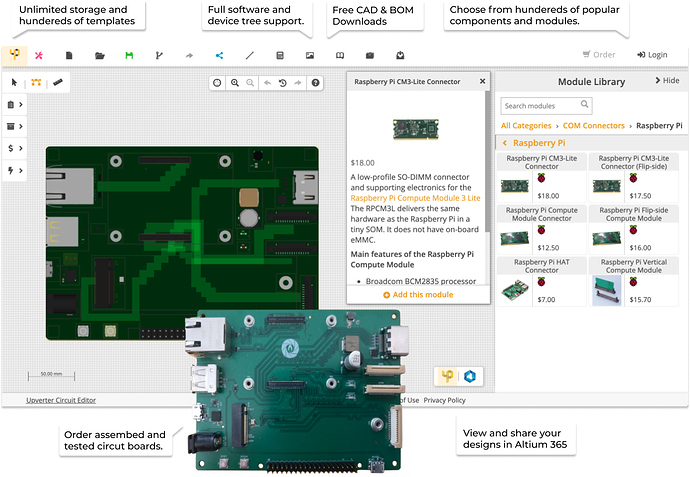 With the new, improved Upverter platform, you'll have easy access to:
Simple drag-and-drop modular designer
Automatic Board Support Package
Free and easy CAD downloads
Altium Viewer
Pretesting and order on demand
…And that's just the beginning!
As an existing Upverter user, you will still be able to access your original account and all of your saved design files. To access your archived account and the Upverter Circuit Design tool dashboard, simply click the Upverter Circuit link from the bottom left footer or access the Upverter Dashboard at https://upverter.com/dashboard/ as usual to start a circuit design.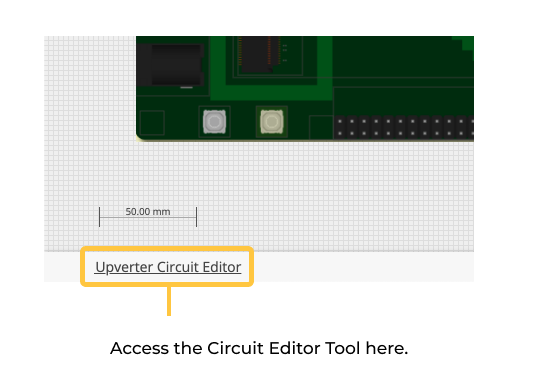 We're also working on a brand-new, user-friendly interface with enhanced software to make your projects flow even more smoothly. We'll give you a heads up before the new UI is rolled out, too–just so there's no surprises.
To ensure that we continue to make Upverter the ultimate tool for your designs, we welcome your feedback–please let us know how we can improve the platform as we implement these new features.
We look forward to what we can create together!
The Upverter Team
P.S.: Make sure to try the free documentation downloader and check out the new reference designs in the new Upverter Modular Design tool.